Why Drive a 2021 RAM 2500 Near Wichita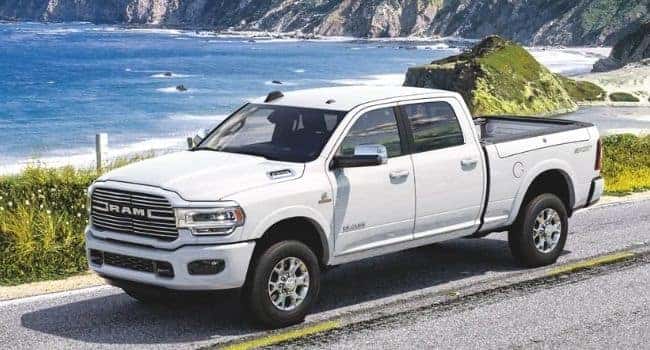 Have you been searching for a 2021 RAM 2500 near me? At Parks Motors Chrysler Dodge Jeep RAM, we have several reasons why you should check out the new RAM 2500 near Wichita today.
Massive Power
You can order your 2021 RAM 2500 with two powertrain options. Choose the 410-horsepower 6.4-liter naturally aspirated V8 with an eight-speed automatic transmission, or you can choose the diesel 6.7-liter inline-six with a six-speed automatic transmission to take advantage of the 370 horsepower. All of the models come standard with rear-wheel-drive and four-wheel-drive, except for the Power Wagon, which is only available as the latter.
Getting the Job Done
With these powerful engines, you can get a lot accomplished. The rear-wheel-drive RAM 2500 with the diesel engine offers the highest rating. With this model, you can tow up to 19,680 pounds. However, the gas-powered truck isn't slacking at all with its 17,350-pound towing capacity.
However, the gas engine does provide a higher payload capacity. The Regular Cab rear-wheel-drive gas model can haul up to 4,380 pounds, yet the diesel motor is rated at 3,060 pounds.
Several Configurations Available
Your heavy-duty RAM truck can be purchased in several different variants. You can choose the Regular Cab with seating for three people. However, there is also a Crew Cab and a more spacious Mega Cab with seating up to six people.
With your Regular Cab RAM 2500, you get an 8-foot bed. Crew Cab trucks come with either the 8-foot or 6-foot-4-inch bed sizes. Additionally, the Mega Cab only comes with the smaller bed size.
Today is a great day to check out the latest RAM 2500 inventory. You can browse our inventory online from the comfort of your home or office. You also want to see what the latest RAM 2500 deals have to offer. Schedule your test drive today.