Press Release
Parks Motors Associate Receives Prestigious 'My Boss is a Patriot' Award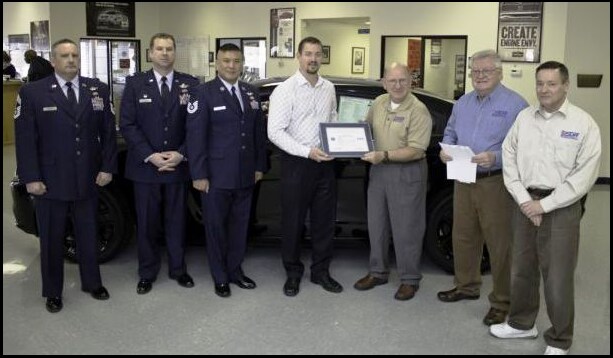 FROM LEFT TO RIGHT:
Air National Guard Chief Master Sergeant Billy Stacey, Air National Guard Lieutenant Colonel Michael Venerdi,
Air National Guard Technical Sergeant Ricky Canlapan, Parks Motor's Sales Manager, Mark Wiens,
Ken Mosteller (ESGR) (Employer Support of the Guard and Reserve)
Larry Faulkner (ESGR), Rick Storm (ESGR)

Employer Support of the National Guard and Reserve Recognized
Wichita, KS, Parks Motors General Manger Mark Wiens was awarded the United States Department of Defense's prestigious "My Boss is a Patriot" award, February 2nd, 2012, in recognition of the employment policies and practices supportive of their employees' participation in the National Guard and Reserve.
Wiens was nominated by a Parks Motors sales associate, Ricky Canlapan, who is a member of the National Guard and Reserve.  Technical Sergeant Ricky Canlapan works at the Chrysler, Dodge, Jeep and Ram Dealership in Augusta, Kansas.  Wiens  received the award at at the dealership from the Kansas Air National Guard.
Members of the National Guard and Reserve forces are eligible to nominate their employers for the "My Boss is a Patriot" Award certificate.
"I nominated Mark Wiens because he was a great mentor.  Apparently, Mark saw something with my military background and thought I would be a good fit" Canlapan said.  "He worked with me through two weeks of very intensive training that led me to a successful sales position with Parks Motors.  They have allowed me the flexibility to complete my military duties and maintain a high level of proficiency as a war fighter.  Most importantly, Mark Wiens and John Culver believe that my family and spirituality are first" Canlapan said.  "They support me every way as an employee and also a citizen soldier." 
"I am humbled and honored to receive such a prestigious award on behalf of Parks Motors," Wiens said. "It's great to work for a company that encourages and supports its associates in their efforts of serving our country through the National Guard and Reserve. The true accolades go to Ricky Canlapan and all of the other military veterans and reservists that have, and currently are, serving our country."
John Culver, Dealer of Parks Motors said, "I think without a question we have the greatest military in the world, full of people like Ricky, who are just the best of the best.  We are thrilled to have him as a part of our team."
The Kansas Committee for Employer Support of the Guard and Reserve (ESGR) is a group of business members statewide that work with employers to provide education on National Guard and Reserve programs as well as to educate on federal laws that protect reservists.
Contact:  John Culver
            888-735-0682
     john@parksmotors.com